Kevork Guzman
Character information
Alias

Picasso

Mental

Normal

Morale

Positive

Date of birth

1992-12-04 (26 years old)

Place of birth

Los Angeles, United States of America

Nationality

American

Ethnicity

Armenian-Latino

Languages

English, Spanish, Armenian

Relationship

Single

Family

David Guzman - Father, Roslyn Guzman - Mother

Religion

Orthodox Christian
Description
Height

189 cm

Weight

100 kg

Build

Kevork has a pretty strong body build. He is trained well and works out on a day to day basis.

Hair

Shaved

Eyes

Black

Alignment

Chaotic Evil

Features

Kevork has a scar right under his eye going horizontally across his cheek.


Equipment

Kevork usually wears a tracksuit jacket and tracksuit pants as well as a radar cap with designer sunglasses, sporting a M4A1 with the default optic sight.

Occupation

Drug/Gun vendor

Affiliation

24th Blvd and Prigorodki Street XII, South Zagoria

Role

Jefe/Shotcaller
Background
Kevork 'Picasso' Guzman
Kevork was born and raised in the ghetto projects of Los Angeles, inside a predominantly Sureño hood. His mother being Armenian and his father being from Mexico, he would grow up to learn two different languages that would both come in handy to his life in LA. He would be able to communicate with other hispanics easily but he was the type to get sucked into group activities/peer pressured so that would get to him eventually. From a young age Kevork would always have coloring pads everywhere laying in his room as well as a palette during the later days as he grew up, learning how to paint, trying to keep himself inside, rather than outside. However, he eventually had to outside, ride his bike to school and he also had taekwondo practice.
7th of April, 2000
This date would change Kevork for life. It started like a normal day like any other day when he'd get on his bike and his little sister would get on the front wheel as they'd ride to school. Mind you, Kevork being 8 and his little sister being 7 he was always protective of her for being ever so younger. While going to school, he was suddenly jumped by two men with red bandanas (obviously being Norteño members). Kevork was kicked off the bike and so was his sister and beat down on the ground for being from 15th, a known Sureño neighborhood. Kevork remembered their faces and walked to school that day, thinking of only one thing - the two people that hurt him and his little sister. After the bell rang, him and his sister walked home. The whole way back, Kevork talked about how he was going to get revenge for what happened that day. What Kevork did was out of character since he kept from talking to the groups of people on his block. Kevork walked up to the "old head" (el jefe) of the block and told him what happened that day. The man looked down at the kid and laughed and watched as the other people in the group laughed as well. He suddenly stopped and slapped the person right of him and told them that no matter who, they need to take care of their own. He looked down at Kevork and said: "Alright, kid. But you'll owe me this one, remember that". Kevork nodded his head and the men mounted the man's '67 Impala to go off and find the two teenagers to deal with them. Kevork eventually got his bike back and he never saw these two men, ever again.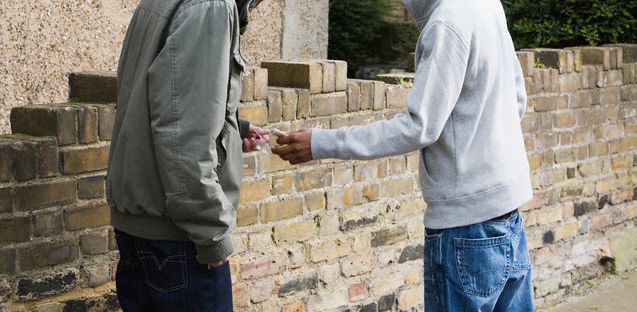 It wasn't until a month later that Kevork would repeat the process of waking up and getting ready to go to school but this time something changed. As he got on his bike he heard a familiar voice yell "a'yo, kid!". Kevork knew it was him since him and his sister were the only kids on the block and turned around to look at the man. The man approached him and quickly gave him a bag. He told him to drop it off to a house that was on his route to his school. Kevork sighed and the man got angry, yelling at him that he had to do it. Kevork nodded quickly and did as he was told. Months would go by and Kevork would comply with more and worse things that he had to do. Years went on and Kevork would get used to the gang mentality. Kevork came to the mind of state that he would kill, get hit or die for his block.
15th of March of 2008
Yet another life changing day in Kevork's book would come on the 15th of March of 2008 where he would eventually be arrested in a SWAT bust-down on his gang's block. By that time Kevork could not play dumb, he was heavily inked down in Sureño related ink which under LA's penal code is classified as gang affiliation, as well as him throwing up gangsigns being stupid like he is while being arrested and being caught on dash camera. He was sent to juvenile detention for a year for selling drugs and was released at the age of 17. The sad part about it was that it was only his 16 year old sister that was there to pick him up. His sister brought him home and after that he received a severe beat down by his father's belt. He was lucky that his mother held his father back or else Kevork might've seriously have gotten beat to death by his father. After they all calmed down, Kevork told his son that they were moving back to Armenia, both for his sake but also because of his family's sake, due to his father receiving an offer to work back in Armenia in his father's company (Kevork's grandfather). 
9th of February of 2010
Kevork arrived in Tsaghkadzor the 9th of February of 2010 and he was to stay there for many years to come. Kevork however didn't know how to do much, he knew how to paint, barely read, make drugs and sell them. He was also one hell of a "car engineer", in the ghetto meaning. That being said, he knew how to steal cars and became notorious for that in Tsaghkadzor, even managing to once steal a Cadillac which he sold for the huge lump sum of $500 (that in Armenia being about $10k equivalent in USA). Being the "tough kid on the block" or the "kid with the bad history", kids would always come to him if something bad happened to them and Kevork would eventually deal with it. As this started repeating it's self however, the same image would be drawn like it was with him, the kids would owe him favors, they would do things for him and so a gang would be formed in Kevork's little neighborhood. Eventually they got into drug smuggling and started expanding in surrounding villages and towns and their latest expansion was to be in Chernogorsk. 
25th of June of 2017
Kevork arrived in Kamenka along with a few other people he was on the boat with back from his village on the 25th of June of 2017 and started operating from Kamenka for a good month before the apocalypse happened. A year into the apocalypse, Kevork and his main homies would establish their dominance in Prigorodki. The jefe of the  24th Blvd and Prigorodki Street XII was Kevork Guzman, his shotcallers were Ricardo and Javier Garcia. He also had a council, a collective of people who he took decisions with, a collective of people that ran street operations for him. The chain of command would then go down to street soldiers which would carry out hits, look out for promising new recruits and then it was down to youngens that would get the grunt work done such as selling drugs, transporting drugs, growing them, finding good stash spots, robbing people. However, Chernarus being a strange place, they clashed with many different ethnicities but finding armenians or armenian-hispanics that would join the gang was scarce. However, Kevork was able to establish a deal with a boatman from Armenia who'd take people down the route to Kamenka and drop people off there for him so if need be, Kevork had a way to get people in the country.