Finleigh Shaw
Character information
Alias

Jax (Alias) | Finn, Kiddo (Nicknames)

Mental

Prefers to be alone and will not open up to anybody unless she trusts them

Morale

Staying strong. Given the struggles she's been through in the past she's trying her best to not fail herself. Doesn't believe in giving up

Date of birth

2003-01-12 (15 years old)

Place of birth

Born in Rigby, Idaho. Shortly after getting adopted moved to Kyzyl, Russia

Nationality

American

Relationship

Currently not in a relationship & not planning to be anytime soon.

Family

Ollie Shaw (Brother) https://www.dayzrp.com/characters/display-4101/

Religion

Doesn't believe in the values of religion anymore
Description
Features

Finn is often seen carrying no other weapon than a baseball bat which she pushed nails into. Guns don't seem to interest her one bit. She loves wearing her variety of 80s band t-shirts and her signature Beanies. She usually does not wear jackets or facemasks and tries to stay away from carrying too much unnecessary crap on her. She dislikes people that show off their gear.

She carries a walkman around with her including two tapes (Soundgarden & Audioslave) and has made it an objective to collect more tapes. She was also given a Battery driven Gameboy color by her friend Lachlan including a cartridge of Pokemon Red. She barely uses her gameboy but will often be seen sitting around, listening to her walkman.

Occupation

Who knows ;)
Background

Finleigh was born in Rigby, Idaho and put up for adoption by her birth mother together with her older brother, Ollie. She spent her childhood secluded in an Oprhanage in the same town she was born in. Seeing her best friends leave the orphanage to finally have their own families was the hardest thing in the world for her. Finn usually won't talk about her past at the orphanage and tries to hide her emotions when the conversation does arise. At the age of thirteen, her, Ollie and a 5 year old boy named Cody were adopted by a russian family of entrepreneurs named Anatoly & Ilya. They moved to Russia with their new parents where a short while later she found out about her adopted father's real occupation which was his involvement with the bratva. Anatoly would treat Finn like a slave and make her do anything he wanted. If she made the slightest mistake, Cody would be the one to pay for it. Making Finn watch the cruelties with her own eyes every single time.
On a business trip down to south zagoria, the outbreak was the least of her worries. She didn't want to live the life that was forseen after Cody had been hurt badly the night before. She poisoned Anatoly's Coffee and watched him suffocate to death. She ran into Cody's room and grabbed his little unresponsive body, running into the woods with him on her back. Ollie, being the oldest one, was guarding the kids from any harm. The day after, the two awoke to Cody having passed away from the injuries he suffered the night before.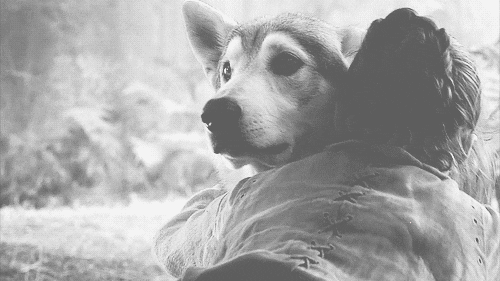 Shiloh
After a few weeks of living on their own in the woods, Ollie and Finn made her way into Severograd on a supply run. Little did they know they were about to witness a bunch of people shooting up a pack of wolves in the town. She watched as the wolves tore apart a few of the men. One of the wolves was stabbed with a knife and ran off on his own. A few nights later she began noticing the food rests she left laying out dissapearing over night. Only ever being able to see a shadow of a creature taking it at night. She decided to stay awake and watch, laying out some left over raw steak. That night she witnessed an injured wolf coming for the steak she had left. The wolf appears shy and weak. She began feeding it night after night until the wolf began approaching her close and closer gradually. Finn managed to patch him up, named him Shiloh and the two are now best friends.



Finn will usually appear shy at the first glance but is not to be underestimated when it comes to making decisions and taking care of herself. She is stubborn and won't befriend strangers easily, due to her long absence in the woods of south zagoria and past struggles she has been put through. She believes in survival of the fittest and will definitely put that to show. Finn is incredibly sly when she needs to be and can manipulate people whenever she deems necessary. She is an incredibly good pickpocket. She doesn't usually let people close to her unless she has built trust with them. 
She dislikes anyone who carries a lot of unnecessary gear, show-off's and people who think they're the shit. 



Ollie Shaw (Brother)
Hondo Hunt (Guardian)
Donovan March
Jupiter
David Anderson




Reunite with Ollie
Find out more Information about the slavers that took her
Attempt to free Fox & Benjamin from them 
Get through this shitfest one day at a time
Look after Shiloh
Find more tapes for her Walkman, especially anything 80s
Collect more Band T-Shirts
Keep the control over fate and destiny, who lives and who dies