Ellie Hoste
Character information
Alias

El, Ellie

Mental

Cautious, but Stable

Morale

Even

Date of birth

2003-12-10 (16 years old)

Place of birth

Seattle, Washington

Nationality

American

Ethnicity

Caucasian

Languages

English

Relationship

Single

Family

Mother, Father, Brother - Missing/Presumed Dead

Religion

Non-Practicing Christian
Description
Height

162 cm

Weight

47 kg

Build

Thin

Hair

Deep Brown

Eyes

Light Blue

Alignment

Chaotic Neutral

Equipment

Just what she carries.

Occupation

Student

Affiliation

Nikolai/Bolat/"Jaro"
Background
"Those who meant well behaved in the same way as those who meant badly."
---


-----

----
Unsure, Withdrawn, Concise, Foul Mouthed
Ellie's voice was always tinted with laughter, bubbling up like a fresh spring newly tapped to all those around her the moment something appeased her humor. The ringing octaves loudly breaking past any shy or awkward defense, she was known as someone any person could learn to like, to get along in tandem and to become friends with. Her wits, knowledge and dedication to her studies alongside her upbeat and cheerful personality landed her a early scholarship to Europe. To study among the best and brightest of her state was more than just a honor, it was a opportunity. And that is precisely how Ellie viewed life, as a opportunity. Each failure was a chance to start anew, each misstep a well learned lesson and each pained memory a tome of knowledge to ceaselessly read over and over late at night.

The flight ever made it to it's final stop, and the ensuing days gave way into months. Shuffled off to Miroslavl to await aid Ellie's charming smiles and giddy jokes faltered and her well ran dry leaving the young girl silent and sullen. Until a shadow eclipsed her lone isolation, forcing her to crawl out of the damp hole she had fallen into. A new chance to start again, and a sense of belonging she had long since forgotten.
Life was not easy, she knew this. Terrible things happen to good people, she knew this as well. But despite it all, each breath she drew into her lungs, each sharp cold swath of air filling her whole was opportunity to breathe again.
"Along as I am a alive, anywhere can be a haven if I try. I may not find my way back, but I already know where my home is."
---
---


----

----
Nikolai Hageland


---
Steadfast, Strong Willed, Cautious, Protective
My closest friend. My confidant and my protector. He was there when I thought all the light in the world had vanished, he was beside me during the times
of hunger, hurt and loss. We met in the Cherno Refugee camp, both seeking out warmth against the cold in the new world. He lost his friends, his partner and his home. We were the same, though perhaps slightly different. He was the brother I had lost, the father I missed dearly, the uncle I had not known and the friend I knew I needed. He was the slips of light in a boarded up window, the peeking sun behind rain clouds. He reminded me to keep going, and that there was still hope yet. 
If home was a feeling, it would be the one I have when I am beside Nikolai.
Bolo
---
Defiant, Iron Clad, Quick Tempered, Direct
A rough man, curt and sharp tongued Bolo was in Miroslavl with us. His desire to help those around him shone through the pained expressions and stains of blood on his hands. He knew what it was to suffer, to be alone, to be without help and to feel as if he was forgotten. He made sure to never let the others experience that as well. He snuck rations, medical supplies, alcohol and crude jokes to us, things we lapped up hungrily. His silence spoke volumes and his anger was a tempered quiet; a sleeping bear not to be roused. His business was his own, and he made that clear. We knew he needed us as much as we needed him, perhaps in different ways.

Jaromir Lucic


[Deceased]
---
Stoic, methodical, Vague, Jovial
Eyes that are always searching, always looking and never pausing like a cat idly observing it's surroundings . That is how I think of Jaro.  Perhaps he thinks he is wiser than he lets on, but I can tell when a puppet master is perform a elaborate play. The trick is not to mind, you see. And not mind I do with Jaro. Conflicting thoughts dance against his expressions frequently and I often wonder what back and forth he may be having in that mind of his. We met Jaro in Camp Hope, guarding the doors and gates. A odd job for the man I saw, but one he performed expertly as if he was born to do it, and that is how I spotted him. No one adapts that easily without trying to make it seem so. But I did not mind, the events played out and like a song the chorus rang out and I joined the many voices alongside his. Perhaps things will change, but until then I trust Jaro, even if he doesn't trust himself. 
Update:
After I was taken away, I knew that Jaro would go to the ends of the earth to try and get me back to Nikolai no matter what the cost. Sadly, the cost was everything. During what I can only imagine was a accidental stumbling he made a split second decision that cost him his life. For this, I can't help but think everything he tried to teach me was in vain, would he even be proud of the person I am now? I hope that where ever he is, his amber eyes hold no regret for ever having gotten to know me. 
Dr. Dylan River
---
Patient, Kind Hearted, Good Natured, Focused
Calm like a stream, babbling brook named after the smooth water that flows with such ease. Dylan River is steadfast and soothing. His profession probably having taught him the patience he needs to navigate the world around him. He's the person to go to for aid, for help, to heal the sick and fix the broken. The outlook he shares with the world is naive at times, but hopeful and that is something to keep alive. He wants to build a better future and I do not mind helping him in his cause.
Mary White
---
Cheerful, Hopeful, Concerned, Gentle
We met Mary through Pasi, the old gentle man who wanted the best for everyone, when he led us to Berezino away from the camp at Kelm. She greeted us with open arms, and open heart knowing all too well the struggles of surviving alone. Hers is a warmth of a sun ray, one which you could easily fall asleep under. Mary wishes nothing more than the best for those close to her, and to feel such acceptance is almost foreign, I had forgotten it existed. She strives to always perform her best, to look out for others, and to be by their side. Reminded of a mother hen, I am happy to be encased within her protective feathers.

Jona and Emily
---
Carefree, Willful, Soft Spoken, Observative 
Yin and Yang, two opposites that complement each other so well, Jona and Emily are two halves of the same whole. We met them in Camp Hope, Jona a loud and proud Chernarussian man with a voice that carries laughter over mountains and hills while Emily, a soft and gentle soul who's kind words and fiery temperature remind you that even the cooling coals of a fire can still burn such as bad as the flame whilst her phrasings can sooth your pains like cooling water. They are two eyes on the same face, two ears, two arms and two legs. They see, they watch, they listen and they help. I often fear if one is missing the other would simply vanish into thin air, thankfully they are always by each others side, where one is close the other is not far behind. 
Dr. Dimitri
---
Quiet, Snarky Intelligent, Direct
A wise old man, and even wiser old doctor who came into contact with Ellie after joining forces with Dr. River. He had served time in the Toy Makers camp, healing and tending to those in need. After their collapse he spent his time wandering the wastes in search of purpose and drive only to come across River and his people. One included in the group, he quickly grew accustom to their ways. Traveling place to place to heal and help, though when Richard entered the picture Dr. Dimitri's true snark and wit came out to play. Easily able to match insults with the rough and uppity Englishman he kept his balance mentally and verbally through and though. After a series of events led Dr. Dimitri to the loss of one pinky finger, he now finds himself side by side with Ellie and Nikolai once more along with Vlad. While not the most eager to be apart of such people, he knows better than to run his mouth and keeps to himself all his objects and worries instead turning his focus outward on his wayward ward Tallie who recently has gone missing. In a never ending searching to save others, he continues to roam trying to find her. 
Legend -

 - Closest Friend/Ally
--


---
Roy "Hutch"
---
Aloof, Forgetful, Happy-Go-Lucky, Confused
A old and nearly senile old man who's heart and goals are in the right place. He's easily distracted by pond water, and mushrooms. Means well, and is highly forgetful. 
Nick "Sauce"
---
Jokester, Hidden, Boastful, Cheery
Best friend of Hutch, they have a strong friendship and enjoy each others company. Sauce is combat efficient and enjoys keeping his gun close, does not take well to occult or mysticism. Is likely to be a wild card without meaning to, but would be a ally when called upon. Hates mushrooms and enjoys crawfish. Is from New Orleans and is a classic proud American. Has some dark secrets he keeps to himself.
Radek


---
Cold, Indecisive, Conflicted, Calm
Cold, and conflicted Radek was a member of the raiders or Comfort Dealers, joined up noting he had nothing else to live for and they gave him a sense of family he was missing. Within the group he became addicted to Comfort and often lost sight of who he thought he was. Now clean, he wanders in a unknown location likely mulling over all the wrong doings from his time with the Batteries. Has the capacity to care for others, despite his attempts to kill those notions within himself. 
Update:
Since Radek has stolen Ellie away from her friends, she has seen a more gentle side to the man. He's determine to show her how best she needs to grow, in his eyes. Though his methods and direction are rather rough and coarse. Seeming to know that he wants to make amends with the past, he is doing everything he can in the only way he knows how to help Ellie.
Sebastian "Seb" Sladek
---
[Deceased]
Unpredictable, Confident, Cold, Agitated
A unpredictable wild man, with a sense of organization that allocated for dangerous unseen choices to be made. Cared little for others, even those who cared deeply for him. Perished in a car accident while high on Comfort.
Buzzo
---
[Deceased]
Wild, Untamed, Insane, Unabashed
[Highly dangerous man, is one who cannot be reasoned with and sees no reason for his own actions. Enjoyed harm and chaos simply because he could, actions would vary from person to person day to day. Led the Dead Batteries also known as the Raiders or Comfort Dealers. Perished in a fight with Kevin Nivek who was later killed by Sebastian. 
Vlad


---
Proud, Self-Important, Arrogant, Distracted
Last of the know Raiders to Ellie, has since fled the country to a unknown location. Seems to be able to warp personality to fit in with various groups and people allowing himself to become trusted among them before betraying them when it best suits him. His motives and actions are always self focused, and enjoys bragging about his accomplishments of depravity or conquest. Even more dangerous on Comfort than when sober. After his return to South Zagoria he's been attempting to make amends with those who he has wronged, and while his effort are appreciated they often ring hallow as the past is not easily forgotten.
Updated:
A new side to Vlad has emerged toward Ellie, having been taken under the Raiders wings and force to grow alongside them she has bared witness to aspects of the once violent man she never knew existed. It seems as though without the haze of drugs to surround him Vlad is a stoic and direct person, who cuts to the chase and gets what he wants how ever he pleases. His desires and goals often align with those of his friends and as such he holds their worth in high regard opting to do nearly anything that needs to be done to ensure they're safety and survival. 
Dr. Andela "Andy"


---
Cautious, Caring, Lost, Unsure
The good doc, Dr. Andela first made her presence known at Camp Hope and showcased her will and skill for helping those in need. A certified heart and vein doctor, her and Dr. River recounted many tales of their time in school and were close friends. Dr. Andela in a attempt to get away from the ever constant eye of Camp Hope tried to set up Camp River with Dr. River. It was quickly overrun by the Comfort Dealers whom enlisted Andela for her expertise in which she found herself gaining a new found addiction for Comfort. A sequence of events including the stalking from Dr. Merko, the subsequent involvement of Jaro in the cover up plot, and the untimely death of Merko at the hands of Dr. Hope led Andela to find safety in the arms of Sebastian. Likely losing sight and notion of who she was and is as a person, Andela made the choice to leave Chernarus after Sebastian's death to find sobriety. 
Khandra
---
Naive, Carefree, Afflicted, Caged
Khandra is a kind soul, her heart yearns to keep all those she loves and cares for alive and well, though at times it can lead her into greater dangers. Khandra appeared in Camp Hope along side her "sister" Elly, the two were a inseparable pair recounting their time spent with various people they had encountered. While having suffered through many of the worlds evil's Khandra still shines a light in the hearts of those who care for her, and this was shown during her entrapment upon the Prison Island in which Jona brought forth many of her friends far and wide to help set her free. Afflicted with visions of shadows, talking red cats, and the voices of trees it is known she is not all that normal, but despite these traits she still manages to keep her head held high and her spirits raised.
Timmy (Timotej)
---
Snarky, Quiet, Creative, Poignant 
A young boy with a knack for for seeing what others don't, he is a welcomed fresh sight to the ruins of ash around our feet. We met him on the tracks traveling alongside Kuba, a Cerna Liska lost fox, and quickly brought him into our folds once we encountered him with Erich. His quiet yet snarky comments seem to bring laughter to my lips when I had forgotten how it had sounded. Seeming to be lost in his own thoughts, I know he's seeking out the next beautiful thing to capture with his camera and I revel in the opportunity to see what he has created. 
Steven "Shakes"
---
Nervous, Unstable, Affectionate, Indecisive
A awkward young boy, Steven is known better for his nickname Shakes which came from his stutter and nervousness which have both since faded. First associated with Mac Tire, Shakes and Ellie met briefly through Hutch and Sauce having sparse encounters here and there. During one fateful trip it became known that Shakes suffers from more than just the occasional stutter and often subverts his inner demons with some sort of drug. Likely to be unstable due to the loss of his beloved Emma he can often be found caressing a whittled necklace of a arrow, musing over visits to her grave site. His desire to help others is paramount, and he often seems to find himself in greater trouble for it.
Ryker
---
Directive, Stone-walled, Tempered, Protective
The former leader of Mac Tire, Ryker set out to do good in this world and found obstacles at every corner. He and his men wished for nothing more than to rebuild what was lost, though it was not meant to be. Often finding themselves hunted, chased down or wrongly accused for various acts the group and Ryker soon decided to dissolve. During Ellie's time of knowing Ryker he was a steadfast and confident man, always lending a hand in need and offered protection to her and her friends when needed. It is rumored he sought a relationship with Alyssa Black of the Toymakers though to Ellie this is not yet founded, and she is convinced he has left the country to better find a purpose in life.
"Husky"
---
Cheerful, Kind, Open-Minded, Tough
A local Chernarussian woman who found love in the wrong places, first having a partner that attempted to get her killed after they split by naming her a Chedaki supporter. Swayed to the side of the nationalists Husky keeps dangerous company with Kamenici and a man named Maxime, whom garners a intense hatred for foreigners. While Husky herself is kind, and often willing to help those in need despite their backgrounds she does not shy away from a opportunity to benefit herself or others through the ignorance and naivety of strangers. Husky was introduced to Ellie through Jona and Emily, two of her good friends.
"Elly"
---
Manipulative, Mischievous, Untrustworthy, Demented
The face of innocent young girl but with the mind of something more sinister, Elly is known as Khandra's adoptive sister through their own right and would often be found trailing along side her. As time progressed the world seemed to warp the young girl into something more evil. Now she revels in the macabre, enjoying torture, murder, and defamation of others. She could be found wandering into dangerous situations, associating with dangerous people and undermining those who she claimed to care for just for the simple sake that she could. It was discovered that Elly likely was working with the Comfort Dealers and led them directly to Ellie, Nikolai and Jaro in Elektro, a event that still scars them to this day. For this reason, she is untrusted by them and was last known to be residing somewhere in a cabin away from most people reading up on various books.
Pasi "Old Man Pasi"
---
[Deceased]
Endearing, Comforting, Gentle, Mistaken
A kind and caring old man, Pasi was known to harbor a soft spot for lone wanders and young people who were lost in more ways than one. Having met him on the road to Stary, his search for Jars never became a reality as his fierce desire to keep his adopted grandchildren safe led to his death. Khandra and Elly were his closest "children" and he would often be seen taking about them in admiration, when Khandra's addiction to Comfort became too much Pasi attempted to resolve the situation directly, a grave mistake. Confronting Buzzo painted a target on his back one which found it's mark, and Pasi soon fell. When he was alive and not helping around various camps, he could be found strumming his guitar and singing melodies to ease the nerves of those around him. 
Dr. Merko
---
[Deceased]
Eclipsed, Vague, Twisted, Driven
Dr. Merko was one of the founding doctors to reside at Camp Hope along side Dr. River, Dr. Hope and Dr. Andela. His presence was a constant one and even traveled between Camp River and Camp Hope offering services. Upon the mysterious arrival of stalker letters sent to various women, Dr. Andela included, it became apparent Dr. Merko was deeply involved though to the absolute degree it was uncertain. As time moved forward and Jaro was quickly swept up in the plot it was discovered that Dr. Merko was the one sending the letters, the one who hired mercenaries to capture River and Khandra and the one who subsequently murdered Pasi after the Comfort Dealers gravely wounded him and cut off the old mans head. In the end he was the one plotting for demise of those who trusted him. Due to his heinous actions he was abruptly brought to justice by Dr. Hope who promptly put a bullet in his head.
Dr. Edgar
---
Driven, Focused, Insightful, dedicated
Dr. Edgar is a intelligent man, his focuses reside on infection and investigation into it's causes. Often times he will hole up in his lab running his various experiments and notating his results. It is also believed he may idly drink while working which tends to lead him to slumbers of elongated periods, but these do not impact his behavior or work ethic. He is curious, humorous and friendly to those around him often ready to laugh or joke alongside those beside him.
Updated:
After the separation of Jessica from the group, and Edgar's willingness to walk into harms way he has chose to isolate himself in his lab and mull over his choices and the direction his life has taken.
Miro
---
Laid-Back, Easy Going, Temperamental, Soft-Spoken
A silent yet contemplative man, Miro is a local Chernarussian who's desires are to aid those in helping others. He is measured and decisive often quick to raise arms in defense and defend those in need. He as his share local history or experiences, citing them frequently and joyously. A softer side to Miro can be seen as he works on whittling wood figures, likely to occupy his mind from the various on-goings he either is not interested in or cannot understand. 
Jessica "Dr. Plum"
---
Nervous, Tender, Anxious, Quiet
A new addition to the inner group that Ellie knows, Jessica is a 3rd Year Internal medical Student who's knowledge of the field is put to the test near daily. While she's experienced at helping others and does her best to aid them it often leads to frustrations as most either willfully or purposefully ignore her advice and expertise. She has a rapid desire to learn and grow more in her current skill set and is studying under Dr. River in order to achieve that goal. She is often nervous and scared, jumping when situations arise that can cause or lead to conflict and actively attempts to avoid hostilities or arguments. In true Canadian culture she tends to apologize for small missteps though she means well while doing so, likely to avoid aggression. She can be seen suffering from either mild or extreme panic attacks, though keeps this fact well hidden. Regardless, she is a gentle and kind person who's only aim is to help those who she can.
Updated:
After recent events in which Jessica has chosen to split from the others and live a life with Merko Ellie no longer trusts her or her judgement. While her skills and knowledge are a great asset her choice of company and companionship has left the others with no choice but to separate themselves from her.
Oswald
---
Stoic, Contemplative, Remorseful, Angry
Oswald is a man that can be reasoned with, if he sees a goal to achieve. He is part of the group that runs the Prison Island and works to "help" mentally unsound people to be rehabilitated though, their methods are barbaric and hinder on the level of war crimes. Oswald heads the Prison as the lead Doctor, and has been known to perform experiences or inspections of persons without their consent and while he seems to want to achieve good his methods of walking that path are crooked as the people he chooses to work for. tainting any notion of good with evil.
Jack "Lemons"
---
Divertive, Layered, Aggressive, Fear Mongering
A man who detests liars. Jack Lemons is a lead Warden on the Prison Island and makes this well known. He holds grudges against people who slight him and will go to the ends of the earth to enact justice even hurting those who have no associating to himself. His sense of morality is skewed as are his desires to help or aid people. While thinking he is doing the world a favor by helping those who are not mentally well, he is actually causing more harm that good. Choosing to target unaffiliated people to further his own goals. Jack is direct, Jack is stead fast and will not give up his own personal tallies for any reason. He will use violence and coercion to get what he wants, he does not shy away from torture or other inhumane acts as he sees them as a means to a end. At the bottom of it all nothing matters more to Jack than Jack.
Alexis Merko
---
Concealed, Off Kilter, Drifted, Unhinged
Much like his father, Alexis set out with a will to carry on his work. He worked alongside the Prison Islanders to kidnap Ellie, Nikolai, Jaro and the others in order to fulfill that goal. He seems to want to gain access to Dr. Hope, his fathers killer, as well as Dr. Andela. Though, not seeming too fussed with Jaro who aided his father in his prank plots. He can be be described as insane, blaring loud music over the alarm system, enjoying torture and threats, then swinging to the side of those he hut once outcasted from the prison himself. Currently, he is paired with Jessica and the two are dislike by both groups Dr. Rivers people and the Prison Islanders.
Richard (Harissa)
---
[Deceased]
Secretive, Obsessed, Sadistic, Deluded
A man obsessed with a single goal, and once fixated could not be swayed. Richard was appointed with the task of ensuring that the doctors complete their task of locating Jona for Lemons and if that meant Richard needed to follow them around, so be it. Days passed with him at their side, taunting and joking threatening and promising all manner of terrible deeds. It wasn't until he decided to trust the wrong person, Vlad, that his life was swiftly taken from him via Ellie's hand, a act not of her own free will. Now dead, his only legacy is the memory of his presence and his daughter, Lucy.
Lucy (Harissa)
---
Vengeful, Stalker, Obsessive, Determined
Upon not hearing from her father, Lucy set out on her own only to learn that through Anya that Ellie had taken his life. Now sworn on a path of revenge she scours the country looking for those to aid her in her revenge plot even going as far as to offer a bounty on Ellie's head for the act of murder, one which she seems dolefully intending to pay.
Katie


---
Kind, Caring, Stressed, Soft Spoken
The partner of Vlad, Katie is a bright ray of light in the storm that is known as the raiders. She is kind, and gentle. Her words soft spoken but meaningful and her skills at healing bar none. While she loves Vlad intensely, she does not shy away from his know violence and often questions the others on their own methods as well. It seems even though she surrounds herself with people others would consider less desirable it's because she can see the light within them. Something, they probably don't expect from anyone anymore and as such they all fiercely defend and protect her. Katie is not without her own faults, showing sighs of stress and frustration when things do not go the more calmer route, but she does not back down from a fight nor is she afraid to speak her mind. Ellie would consider Katie the strongest person she knows, not for her physical strength but the strength of her heart.
Jack (Saladin)


---
Gruff, Observational, Wounded, Gentle
A gruff voiced man, who's words seem to be weighed heavily before uttered. Ellie is reminded of Jaro often when listening to him speak, though she knows how much different they truly are. Jack keeps a lot hidden and it's no secret, but what doesn't affect the group is of no matter when he is around the raiders. One who does not shy from violence, who does not waver in the midst of chaos and one who is steadfast and logical, Ellie almost feels a calm sense of belonging when in his presence, one akin to that of being in the eye of a storm.  She often reverts to his ear and wisdom when seeking a path through unknown territory that she is unsure of how best to tread. 
Anya


---
Drugged, Aggressive, Addicted, Logical
A fast paced woman who prefers people to keep their noses out of places they do not belong, Anya is a native Chernarussian with a mild to moderate drug problem that she keeps somewhat under wraps. She enjoys her free time, her space and her sanity and will aggressively remind people of why and when she needs to partake in any one activity. Not one to beat around the bush she has been known to plainly and direct state how she feels or what she observes about a person or situation much to their offense. She's adept at handling herself, along with her guns and does not hesitate to shoot when she means to. Though, through her rough exterior is a caring side, but one she would likely be quick to dismiss it,  possibly under the pretense it would be considered a weakness and having such a fault now a days is something that can be exploited. Ellie may not know who or where Anya spends her free time , nor what her past entails but enjoys her quick wit and sharp tongue when around her presence none the less. 
Alyona


---
Quiet, Direct, Stoic, Measured
A even toned speaker, Alyona is one who's words have weight. Each utterance is something that rings deeply when spoken and others tend to listen. She's adept at blending into crowds and groups without leaving a knowing presence and as such is often sent into camps or groups to scout information. Though she's skilled at vanishing in plain sight, she still has a strong devotion to her morals and makes this known. Things that she does not agree with do not go amiss and she will loudly proclaim such things with ease and certainty. in a way that prevents others from arguing against her. She is also not one to be pushed around, if she does not see the value in something she will state as much and that will be the final stance on the matter. Alyona is also good with offering advice, handling weapons and throwing sharp barbed jabs at people when they least expect it causing quite a explosion of laughter from a crowd and a sly smirk from her.  
Willow


---
Subversive, Secretive, Watchful, Snarky
[Text]
Bori


---
Inattentive, Voracious, Distracted, Simple
[Text]
Sasha


---
Direct, Cool, Perceptive, Stoic
[Text]
Ana


---
Combative, Insulting, Hot-Headed, Self-Reliant
[Text]
Laura
---
Calm, Collected, Mindful, Observant
[Text]
"George" Francis Williams ||


---
Covert, Manipulative, Eager, Closed Off
[Text]
Leo Hamrik
---
Jovial, Mirthful, Open, Alone
[Text]
Kenny


---
Happy-Go-Lucky, Unaffected, Soft-hearted, Jokester
[Text]
Legend -

  - "Vulture" - Group Members
--

---

---


---
Encounters - 
Basic Stitching - (Proficient): 
Level 1: Alen Fraider - [Location: Svetlo City Center] [Date: 6/19/2019] - Clean and disinfected then stitched closed large semi-infected wolf bite wound on side, wrapped and securely bandaged. 
Level 2: Callum Skies - [Location: Outside Lop Castle, unnamed Village (AKA Old Eden)] [Date: 7/10/2019] - Helped to stitch thigh GSW, cleaned and securely bandaged injury. 
Level 3: Franklin Murphy  - [Location: Noveya Industrial Outskirts] [Date: 7/13/2019] - Aided in GWS to left upper arm. Helped with cleaning, removal of dead skin and stitching of wound closed. 
Level 4:  Liah Sharma  - [Location: Black Lake Cabin] [Date: 7/17/2019] - Assisted with 5.56 Bullet Remove to right shoulder. Cleaned, and stitched the wound before securely wrapping it.
Master: Vlad Visus - [Location: Cabin below Rog Castle] [Date: 9/14/2019] - Cleaned 3 GSW's to thigh, forearm and shoulder. Stitched closed each wound, then securely wrapped them.
Advanced Stitching: 
Level 1: 
Level 2:
Level 3:
Level 4:
Master: 
Bleeding(Treatment): 
Level 1: Callum Skies - [Location: Bogatyrka] [Date: 7/7/2019] - Aiding in supplying 2 Quart blood transfusion of 0+, aided in stitching of shoulder, and stomach GSW.
Level 2: Liah Sharma  - [Location: Black Lake Cabin] [Date: 7/17/2019] - Applied pressure to open GSW on right shoulder to slow, then stop bleeding completely before treatment applied.
Level 3: 
Level 4:
Master: 
Minor Breaks/Fractures: 
Level 1:
Level 2: 
Level 3: 
Level 4:
Master: 
Minor Burns: 
Level 1: Jack Saladin - [Location: Severograd Summer Camp ] [Date: 7/20/2019] - Cleaned and dried a Second-Degree Burn on left arm from lower shoulder to palm, burn left uncovered by instruction from Katie.
Level 2: 
Level 3: 
Level 4:
Master: 
OD's: 
Level 1:
Level 2: 
Level 3: 
Level 4:
Master: 
Choking/CPR:
Level 1:
Level 2: 
Level 3: 
Level 4:
Master: 
Cleaning Wounds - (Proficient): 
Level 1: Nikolai Hageland - [Location: Zvir] [Date: 6/16/2019] - Changed bandages for a arm laceration, cleaned wound with disinfectant and re-wrapped injury securely. 
Level 2: Nikolai Hageland - [Location: Berezino] [Date: 6/18/2019] - Changed bandages for a arm laceration, cleaned wound with disinfectant and re-wrapped injury securely. 
Level 3: Marie White - [Location: Berezino] [Date: 6/20/2019] - Cleaned nail cut wounds and wrapped bandages securely over affected areas.
Level 4: Nick "Sauce" - [Location: Olsha] [Date: 6/20/2019] - Removed popped stitches, cleaned wounds, after stitching done by Jaro, redressed and bandaged wounds securely.
Master: Jessica Mills - [Location: SE of Sinistok] [Date: 7/6/2019] - Removed old bandages, cleaned GSW on thigh. Redressed wound.
---


---


"A man can smile and smile and be a villain."
---
Things I will not consent to;
- Removal of limbs, eyes, tongue, ears, lips or digits (fingers/toes)
- Facial scaring
- Large skin removal 
- Tooth or bone removal
- Destruction of muscles, or tendons 
- Large edgy scars, burns or tattoos
- ERP/Sexual RP
Things I will consent to;
- Bruising 
- Being shot
- Being stabbed
- Broken bones
- Blood letting
- Light scarring in places such as arms, legs, back, side, shoulders, etc (IE; lacerations, initials, small symbols, etc)
- Removal of hair or nails
- Mental scarring
- Being captive for X period of time
---
To impact my character you will have to be creative, I prefer mental torture as it helps to develop the character over physical torture as most physical torture is overdone and way too cringe regardless. You can be creepy, weird or obsessive IC. The better relation we have IC the more impact you will have on my character. If you're unsure, DM/PM me and we can discuss what you think would be a good idea, etc.
Related art:

"I said to you before that I never want to lose you and if I give you this pill, I will lose the Ellie I know, so no. I'm not giving it to you, because I don't want to lose you."

"He hand a knife in his hands and tried to stab me several times over--I managed to push him of me and take the knife in my hands after it fell on the ground and... stab him in the chest with it."



"I'm scared that if you go with him, you won't come back. I can't lose you."


"Promises, your word. Those are the most expensive gift you can give to someone."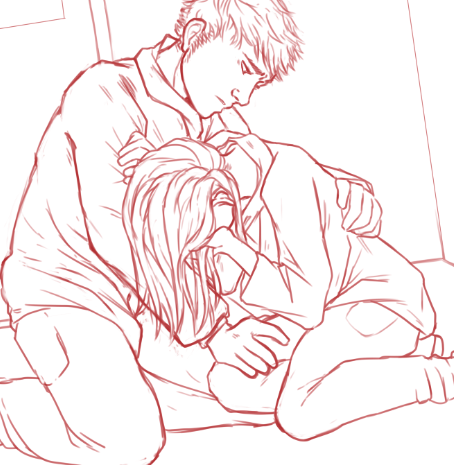 "Please don't leave me."


"Sinking, again."


"Tell the kitten to stay strong..." *His eyes glassed over slightly* "I slipped...Petra....Jaro.."." *Then he fell.*


---
Most species
Bare their teeth
As a threat
As a display
of aggression
Of leadership

It is a reminder
That these
Clenched jaws
Can and will
Open your
Yielding throat

I want you to think of this
The next time I smile

"you tell me I'm on a power trip again and walk off like a child-- and I'll pull the trigger."


"Scouting at Dusk"


"Watching at dawn."


"Duck and Cover."


"keep your weapon clean."